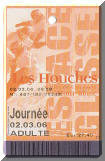 Friday morning March 3rd drove us out of our beds at about 7 a.m. For this once my dear Hana was my companion on my bakery journey . We chose delicious baguettes and croissants. When we went back, Jitka already had prepared sweet-smelling tea and coffee. We relished morning pleasant holiday atmosphere, then loaded our ski stuff and we hit the road for our skiing. Our bodies tell us something about rest but we were hard to ourselves :-) .
At about 10 a.m. we already were down-hill skiing. Unfortunately the weather was worse than on Tuesday. It was snowing and snowing. First only occasionally but in one hour it began to be really heavy. There was a lot of new snow on the pistes and it was difficult and dangerous to ski in it. So in the beforenoon we spent our ski time on the easier one.


However easier ... easier ... On that slope Hana was ran down by a young snowboarder ... Fortunately he didn't go so fast and he stopped and helped Hana to stand up. "O.K.? O.K.!" and they both continued skiing. Fortunately ...
After our break that we as usual spent in the "Le Prarion" restaurant me and Jirka went to more difficult, the Kandahar piste. But it was too strenuous because of a pile of new snow so we went down only four times and we came back to the upper cableway station. And what

surprise ! Jitka and Hana were already waiting there for us. :-) That was enough. We said our "Hello" the Prarion ski area and "For next time!", for the last time we went down by the cableway and our driver Jirka gave us a lift to "our" apartment. We were really, really tired so we were happy to be over there again. We had Pilsner

Urquells, some cheese, salami and c o f f e e .... aaaaaah. Older bodies were satisfied ...
When we recovered there was no playing cards, no, no. We started packing our things for our tomorrow's return journey. We packed almost everything except for things to do evening and morning things and things necessary for sleep. Then we carried all those baggages down into Subaru and for the last time we went out to Chamonix downtown to look around and to eat in our preferred restaurant "La Poele". We fell in love with its pleasant, homely atmosphere. And also its pizzas, omeletts, salads and Chardonnay.
We spent very splendid time there, we were talking about our holiday, experiences, we laughed at all humorous situations that we lived through during that week ... and of course me and Hana thanked to Jitka and Jirka for possibility to be their companions on that splendid vacation. And of course we sent via Jitka our BIG THANKS to Jitka's nephew Christian that let us stay in his cozy apartment. Once again, we thank you Christian !
Yes, we agreed on opinion that it was really memorable holiday time and all

of us would have it on our minds forever ...
Oh ! And we also agreed on our tomorrow back route. Jirka refused to go again over the mountain pass and down the switchbacks. Why ?!?! :-) Well. We agreed we would go through Geneve. It would be a bit longer but safer.
Then there was our last return "home" and our last holiday night in Chamonix Mont Blanc ...